Order a 2022 Lamborghini Huracan EVO Spyder at Lamborghini Denver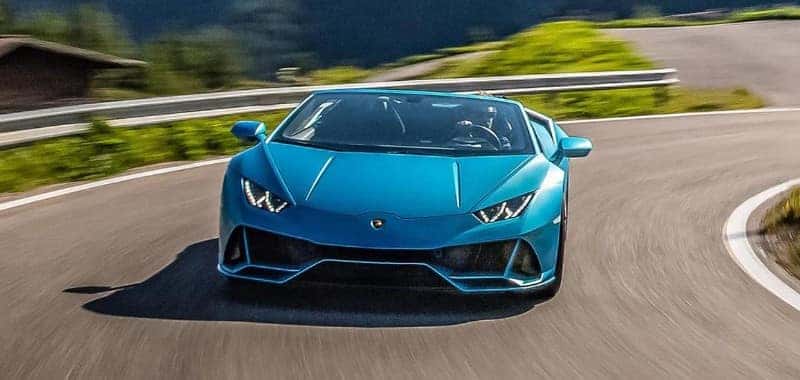 2022 Lamborghini Huracan EVO Spyder
BASE MSRP: from $235,000
Horsepower: 610
Estimated City MPG: 13
Estimated Highway MPG: 18 
Get to Know the 2022 Lamborghini Huracan EVO Spyder

The convertible designed for a life on the track, the 2022 Lamborghini Huracan EVO Spyder is everything that a racing-minded driver would want in a gorgeous exterior. A powerful engine and responsive handling make taking on the local racetrack or even a leisurely jaunt around Colorado a breeze. Nestled into a cabin filled with premium comfort and convenience, the driver gets a ride that is superior to other convertibles on the market. The ideal all-around convertible for the discerning Denver Metro consumer, the Huracan EVO Spyder demonstrates 
2022 Lamborghini Huracan EVO Trim Levels
Drivers can choose between either a RWD or AWD version of the 2022 Lamborghini Huracan EVO Spyder. The standard RWD version offers elite levels of performance, while the AWD trim level takes it to the next level. Whether they want to reserve their Huracan for summertime driving and the racetrack or have more versatility available to them, the Huracan EVO Spyder is ready to accept any challenge.  
2022 Lamborghini Huracan EVO Spyder RWD: MSRP from $235,000
2022 Lamborghini Huracan EVO Spyder AWD: MSRP from $293,000 
Performance

When the 2022 Huracan EVO Spyder is switched on and the thunderous roar of the naturally aspirated 5.2L V10 engine bursts forth, the driver feels what true elite performance should be. Taking command of 610 horsepower in RWD models and 630 in AWD versions, the road or the track becomes a canvas for the exhilarating experiences the driver will have. With the shiftable seven-speed DCT equipped, the performance is catered to each individual. The Huracan EVO Spyder with RWD manipulates corners with sharp responsiveness, while available AWD trims are greater all-around versions of the convertible.  
Interior Features
A superb luxury and performance brand, Lamborghini has given the cabin of its Huracan EVO Spyder high-end materials and features. Adorned with carbon fiber and premium Alcantara®, the interior has a sophisticated appearance and interior appointments that make the convertible a standout option. The bucket seating has incredible bolstering to make any trip comfortable from beginning to end. From the 8.4-inch touchscreen display on the central dashboard, a multitude of useful and entertaining applications are accessible. Bluetooth® connectivity allows for hassle-free use of applicable smartphones while also providing personalized audio content. The Huracan EVO Spyder also comes with integrated navigation to make sure drivers have easy-to-follow directions to destinations all across Colorado and beyond.  
Safety Features
Given the elite sporty functionality of the Lamborghini, drivers can have confidence that their Huracan EVO Spyder will meet their handling demands. The innovative Lamborghini Dinamica Veicolo Integrata controlling system is what makes the Huracan EVO Spyder a dynamic convertible as the vehicle responds fluidly to steering inputs. Customers who choose the AWD version of the Huracan EVO Spyder also get the upgraded handling capabilities that AWD systems provide. Equipped with carbon-ceramic brakes, the stopping potential of the performance convertible is plentiful.  
Find Out More About the 2022 Lamborghini Huracan EVO Spyder at Lamborghini Denver
For Denver Metro customers who want a convertible that can be a titan both on the road and on the track, the 2022 Lamborghini Huracan EVO Spyder is the ideal choice. Contact Lamborghini Denver in Highlands Ranch, CO today to learn more about this scintillating convertible. Our sales team is ready to give you all of the information you need to make a confident and informed shopping decision about the Huracan EVO Spyder.  
Photo Credit: Lamborghini