2021 Lamborghini Sian FKP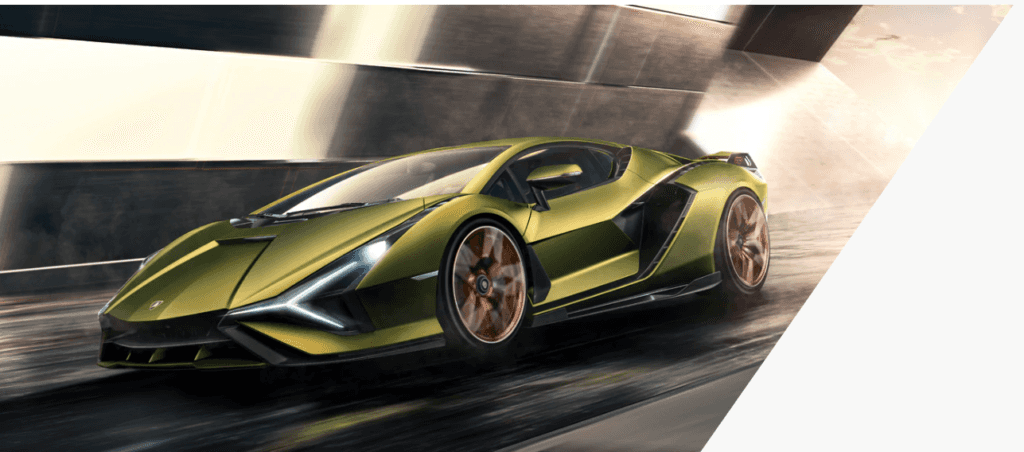 2021 Lamborghini Sian FKP 37 
BASE MSRP: $3,297,632
Horsepower:  819 hp hybrid
City Estimated MPG:  ?
Highway Estimated MPG:  ?
Introduction
Lamborghini has taken on a new challenge in development of the ultimate supercar – a hybrid version.  In typical Lamborghini-style, they have succeeded in producing a stylish,
sporty, and powerful vehicle. The 2021 Lamborghini Sian FKP 37 is a wonder, providing the exciting drive you expect while also implementing impressive hybrid technology.  This first mass-produced Lamborghini hybrid will be a limited series and availability will go quickly.
Performance
Supercar performance is delivered by the Sian FKP 37 through the equipped V12 enhanced with an electric boost for added efficiency.  The lightweight mild-hybrid lithium-ion supercapacitor offers maximum power with minimal weight.  The efficient electric motor delivers torque to the rear wheels and uses the inertia created by braking to recharge the capacitor.   You will experience performance that is more than you ever expected from a hybrid.  This Lamborghini delivers speed of up to 217 mpg and an estimated 0 – 62 mph time of 2.8 seconds!
Interior Features
The Sian FKP 37 uses quality Italian craftsmanship and premium materials to provide the opulent interior you would expect from Lamborghini.  The Ad Personam program offers a wild range of customizations so you can create the car of your dreams.  Choose the color, exterior details, and interior refinements that optimize your Colorado drive.  Of course, you can count on state-of-the-art technology to provide you with an exceptional driving experience.
Although all of the Sian models produced have been sold, Mike Ward Lamborghini, serving all of Colorado and the nearby states, may eventually be able to find one for our valuable clients!