2021 Lamborghini Huracan Trim Levels Ready to Order for Nebraska Drivers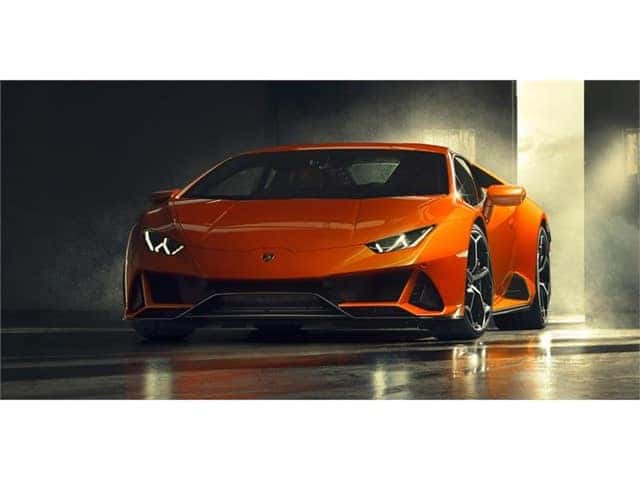 2021 Lamborghini Huracan Trim Levels
BASE MSRP: from $214,866
Horsepower: 602
Estimated City MPG: 13
Estimated Highway MPG: 18 
Get to Know the Lamborghini Huracan EVO/EVO Spyder
Undertake Nebraska driving with style and extreme power with the Lamborghini Huracan EVO or EVO Spyder. Whether a coupe or convertible is the driver's style, the Huracan delivers performance that is found virtually nowhere else in the state. With the base RWD version of the Huracan sporting a naturally aspirated 6.2L V10 engine, the driver will adore the 602 horsepower at their disposal. For even greater handling and improved performance, the AWD version of the same engine gets 631 horsepower. With a seven-speed automatic transmission, both versions of this superior vehicle have smooth acceleration as well as impactful.  
Italian inspiration adorns the interior of the Huracan EVO and EVO Spyder. Premium materials such as Alcantara® and the innovative Carbon Skin®, which is a derivative of carbon fiber, are options for interior upholstery. From the 8.4-inch touchscreen of the onboard infotainment system, drivers get access to plenty of premium media options. Compatible devices can connect to the Huracan with both Apple CarPlay and Android Auto integration. The infotainment system even comes with navigation so you can get real-time traffic information and easy-to-follow directions to destinations across Nebraska.  
Get to Know the Lamborghini Huracan STO
Take the EVO model and make it perfect for life on the track and the result is the Lamborghini Huracan STO. Sporting the same engine as the EVO, 631 horsepower is generated like the AWD EVO. However, the STO trim is RWD only for better performance on the racetrack. The exterior of the sporty coupe is super sleek and cleanly designed to maximize the performance capabilities of the vehicle. Taking this titan out on the highway or to a local track day will leave those watching it in complete awe.  
Given the preferred home of the Huracan STO, many of the elements from the EVO trim have been shed or otherwise been made lighter to maximize acceleration and top speed. This means the seating keeps its excellent comfort while getting bolstered with lightweight carbon fiber. Carbon fiber is also used more liberally across the interior of the cabin to further reduce the overall weight of the vehicle. The STO does not sacrifice its infotainment package from the EVO so drivers will still have all of the convenience and entertainment they want for pleasurable cruising around town or the highway.  
Order the Lamborghini Huracan for Your Nebraska Drive
If you are an interested driver from Nebraska locales including Lincoln, Omaha, or Bellevue, contact Lamborghini Denver at (303) 470-7000. We will help you get the Lamborghini Huracan that best fits your style, so you are thoroughly satisfied with your shopping experience with us. We are the only Lamborghini dealer in the region for customers to order a new vehicle. With our reputable customer service and excellent financing options, we are confident that you will get your preferred Lamborghini Huracan at a monthly payment you are happy with.  
(Photo Credit: Lamborghini)